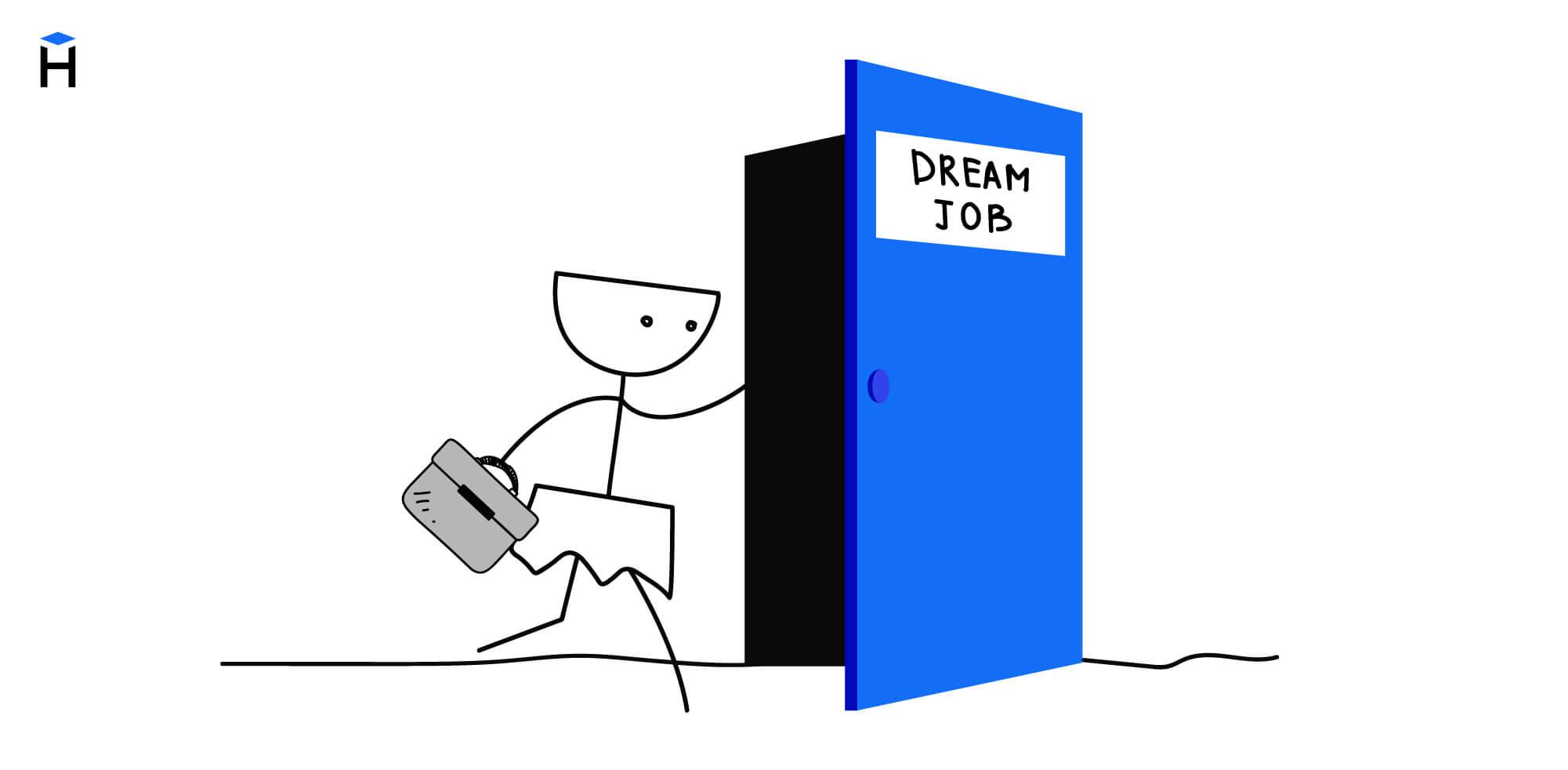 Getting or changing a job is a full-time job itself in the US. You'll need to check the web posts and open positions 2-3 times a week and apply for relevant positions. Find and engage with responsible recruiters and be ready for the interviews and almost the same questions from all the companies/recruiters/hiring managers.
They say you need to apply/send up to 50 resumes daily to be invited to two or three interviews. But let's stay sane and find a job smarter, not harder.
In this lesson we will see six observations on the US IT job market:
What type of job you are looking for
Where (websites, east/west coast)
With whom (agencies, referrals, on your own)
When (seasons)
Why (motivation)
What to say/not to say at the interview
Types of jobs
First, you need to choose the type of employment that will suit you best. There are three types of employment you can pursue:
Full-time — 40 hours a week, 4 weeks a month with benefits. Benefits usually include a 401k pension plan, medical insurance, vacations and so on
Contract — the same working hours as with a full-time job but no benefits
Part-time — less than 40h a week, and the hours are agreed upon in each case. Part-timers receive all the benefits as full-time employees
Depending on the type you choose the job search strategy.
People usually tend to choose a full-time job because of the benefits. You don't need to think about vacations and insurance, everything is already organized by an HR specialist. Also, there's a feeling that it's more stable. On the other hand, a contractor's job has higher salary rates in comparison with a full-time job. The salary's attracting, but you don't forget that have to compensate for the absence of a 401k program, insurance and vacations by yourself.
With any type of employment, You can be fired unexpectedly. If you are a full-time employee you will receive salary compensation equal to several months of work, depending on the company it can be from 2 to 6 months. Most companies have a two-week notice, so you have some time to find a new job without a huge gap between the employment. If you are a contractor, your leave will be effected immediately.
But let's talk about the full-time job more closely. It's a more common scenario in the US.
Job search platforms
When you have decided on the type of employment, you have to choose the company according to your other preferences: tech stack, products, projects, company values, mission, etc. Then you find the role which you pursue and apply.
To find the right company, you can go to these sources:
LinkedIn - a professional network, is widely used on the East and West coasts
Dice.com - a platform, used on the west coast (for example, in Washington or California)
Indeed.com - a platform with job descriptions from tech companies
Also, you can do your search of the top companies in the US. You can google search for "type 50 top IT companies in the US" and find listings similar to these:
Top 50 IT companies in USA

Top 50 Companies for software engineers that want to move to the US

The Top 100 Software Companies of 2022
Ways to make the search faster
There are lots of approaches in a job search but I'd like to talk about the fastest ones.
Friends
In this scenario, your friend or former co-worker refers you to the company you want to work for.
Pros:
Your application will be considered faster. The majority of companies encourage employees to recommend the best talent and put such candidates on a priority list if their experience fits the open role requirements
Your friend or ex-colleague may receive a bonus
Cons are none known.
Agencies
You cooperate with the agency which proposes you to different companies. They cost nothing as the employer will pay them for their service in case they hire you.
Pros:
It saves you lots of time
You get access to really interesting companies
Cons:
A company can reject your CV but promise to come back to you in six months. In that case, they will pay the fee to the agency for half a year. It's pricey, somewhere between 15-25% of the annual salary
A list of agencies can be found here.
Recruiters
You apply for the role by yourself. Then in a couple of days, you find a recruiter of that company on LinkedIn, connect with them and write a short introduction message attaching your CV and asking about your application status. Also, you can ask for the name of the responsible recruiter who you can contact. If there's no reply on the third day, don't shy away and send a follow-up message to the same recruiter.
In case this recruiter didn't respond after your follow-up message, you can always find another recruiter on the website and connect with them. It's a normal practice to engage with recruiters on LinkedIn this way. But don't forget the magic words - please, and thank you work everywhere.
An observation: If you search for a new job constantly, you will be in different stages with different companies. It is less stressful. But it also means that with company A you will have your first technical interview while with company B you are at the last Manager interview. And when you receive a job offer from B you won't be able to compare the compensation part from A as most of the job offers have an expiration date.
At the same time if you look for a job purposefully — it's more stressful and usually takes 2-3 months minimum.
Other ways
If you are looking for an internship or entry-level role, virtual job fairs are a good option:
New York Tech Hiring Events

Job fairs Tips and Tricks
Also, you can try Handshake. They are partnered with 90% of the nation's colleges, universities, trade schools, and community colleges to power their career services department. Good for looking for a first internship or entry-level position.
Startups also like to hire junior specialists. And taking into account that you can work remotely from any part of the USA, the variety of companies is pretty wide for you these days.
When you choose the company/companies you'd like to work for, check their Career or Job field. If the company has internship programs it will be there. Please, also check entry-level or Associate roles in the company. Don't be upset if you didn't find anything. Check their websites in a month or two. Keep an eye on it.
Seasons
"When" is also an important topic. Your strategy can fail or slow down during certain periods of the year.
We'd say August is one of the slowest months as the majority of Americans go on vacations with family and friends. Nobody starts new projects, which means no new roles. Existing roles and candidates are processed slowly and the Project Managers and other stakeholders including responsible recruiters are also on vacation. This means the interview process will be stretched out to several weeks.
September is known as the financial month of the year - it's the time when most companies plan their budgets and projects for the next year. This means they activate hiring processes for current projects and future ones. And "winter holidays mood" starts with Thanksgiving and ends up in the mid of January.
This doesn't mean you shouldn't look for a job and apply for open positions during these times. It just means that there will be fewer responses in comparison with other months.
Motivation
Strong motivation will help you present yourself at the interview with the recruiter or hiring manager. This is the part you should fill in on your own - we can only advise you to answer the questions in detail:
Why do I want to work in this company?
In what area do I want to develop my career?
What motivates me to work
There is a good chance that human resources will ask you these questions, so it is worth preparing for them.
Interview
There are different hiring processes in different companies. We'll mention three steps or interviews which will happen to you:
General interview with the recruiter or hiring manager
Technical interview where your technical skills will be checked
Manager interview — can also be technical but usually they check soft skills and if you fit the team and company
If you are at the first round with the recruiter, they ask questions about your motivation — what you are up to these days and why. The most common answers are:
Just finished the course on a topic and looking for a real project to utilize my skills
Looking for growth opportunities and new challenges
Contract comes to an end (if you already have experience)
Looking for a stable company
Looking for a company to build meaningful products and grow professionally
There might be questions about your experience (if applicable) or your strongest skills. Usually, it means technical skills: like Java, frameworks, AWS, Azure, GCP etc. In the end, you can add something nice about yourself like "and I'm also a team player" if it's true. Or that you are an excellent individual contributor. Tell them what you can bring to the company.
There are also questions about your:
Notice period (when you can join the company)
Location
Salary expectations
Don't be afraid to name the salary as a range:
From a comfortable minimum (to cover your monthly payments and needs)
To an attractive optimum
After you name your range you can ask about the position rate and if you fit the role's range. If you ask about the range before you name yours it won't look nice. In any case, all the salaries are individual and depend on the experience and expertise you have and your presentation skills.
At this first interview ask about details of the role and responsibilities, the next steps, how engineers are growing in the company, and why your interviewer works in that company. Thus you get the inside information on the company and make up your mind whether you want to work for it or it's better to pass.
Questions on how engineers are growing in the company, and why interviewers work in that company are relevant and good for any type of interview.
Avoid asking questions about the benefits at technical or manager or project interviews. And my best advice on how to prepare for the interview: have a good rest the night before and be in your best mood.
Mistakes
Let's discuss the most common ones:
Applying for senior roles, having only junior skills
Googling at the interview, unless it's allowed by the interviewer. You can always ask the interviewer about "googling skills" and try to turn it into a joke
Being unprepared at a job fair. Always have your resume prepared and share it with the recruiters and hiring managers
Conclusion
Now you know getting or changing a job is a full-time job itself indeed. Let the energy and enthusiasm stay with you.
And use your common sense. Build a brand of yourself. Stay yourself. In 15-20 years you become a seasoned professional and no matter in which company you work everyone will know — you can do anything with this technology and it's fun to work with you on the same team.
---
Are there any more questions? Ask them in the Discussion section.
The Hexlet support team or other students will answer you.
About Hexlet learning process